The Pre-Vocational Obstetrics & Gynaecology Society of Australia and New Zealand (PVOGS ANZ) is an organisation that engages with junior doctors and medical students with an interest in the fields of obstetrics, gynaecology and women's health. In particular, addressing the gap between finishing medical school and starting specialist training.
Supported by and affiliated with The Royal Australian and New Zealand College of Obstetricians and Gynaecologists (RANZCOG), PVOGS works to provide its members with opportunities and resources to facilitate their pursuit of a career in women's health, through conferences, workshops, podcasts and educational resources.
PVOGS 2021 Executive Committee
JESSICA YANG
Co-Chair
(New Zealand)
Why do you love women's health and O&G?
All through med school I was fascinated by the complexities of the female reproductive system. In my clinical years I fell in love with surgery. But the biggest part for me is the idea of serving a population that I care about greatly, that has suffered injustices in health historically, and to help these people do what they want with their bodies – whether it be creating a family, exerting their right to not create a family, or managing symptoms and illness so they can live their fullest lives. Every part of women's health appeals to me – even the ungodly hours!
What do you hope to achieve through PVOGs?
I had been involved with PVOGS New Zealand for several years. I want to see the organisation grow and become more inclusive on a binational level, and to support minorities including our smaller state groups, and rural and indigenous communities. To achieve this I believe we need to undergo a thorough amalgamation process with a focus on equity. I'm also very excited to learn a thing or two about leadership and the work that goes into running a group like this one.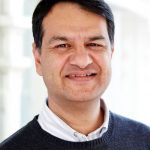 Dr. Vijay Roach
PVOGS Ex-Officio
Dr. Vijay Roach is a specialist Obstetrician and Gynaecologist with years of experience in both public and private practice in Sydney. He is the President of The Royal Australian and New Zealand College of Obstetricians and Gynaecologists (RANZCOG), and has previously held the role of Chair of the RANZCOG NSW Training and Accreditation Committee for nine years. Vijay is directly involved in medical education through lecturing at the University of Sydney.
Vijay is also involved in teaching and mentoring medical students at Royal North Shore Hospital, where his warm and genuine approach allows students to appreciate the human side of medical practice.
FIND OUT MORE