The Pre-Vocational Obstetrics & Gynaecology Society of Australia and New Zealand (PVOGS ANZ) is an organisation that engages with junior doctors and medical students with an interest in the fields of obstetrics, gynaecology and women's health. In particular, addressing the gap between finishing medical school and starting specialist training.
Supported by and affiliated with The Royal Australian and New Zealand College of Obstetricians and Gynaecologists (RANZCOG), PVOGS works to provide its members with opportunities and resources to facilitate their pursuit of a career in women's health, through conferences, workshops, podcasts and educational resources.
PVOGS Executive Committee
BRITTANY CASH
Co-Chair
"Women's health is a huge passion of mine and it has led me to volunteer in all corners of the world and having just returned from a year in the jungles of Borneo, working in conservation and health. One of the highlights was implementing 'Menstrual Hygiene & Education' workshops in schools and seeing the effect it had on both girls and boys. I'm super stoked to be a part of the PVOGS team this year and take it to the next level to engage more medical students & junior doctors in O&G – keep your eyes peeled!"
JANA PITTMAN
Co-Chair
"I have always been drawn to medicine but after having my own babies I fell in love with birthing and women's health. O&G is so diverse with a great mix of surgery and medicine combined with the opportunity to look after a woman and her family from birth and throughout life. I am passionate about raising awareness for women's health particularly gynaecological cancers. This co-chair role means so much to me and I look forward to working with likeminded people to connect, work with and promote PVOGs to all those that love or are thinking of O&G for their future."
PRIYANKA GORADIA
Secretary
"Three things I love about O+G are being involved in one of the most special times in a person's life, cuddling cute babies and having the opportunity to improve the health and wellbeing of a child right from day 1! I also love admin, calendars and to-do lists, so I'm looking forward to bossing the rest of the team around … just kidding! Can't wait to follow on from last year's committee and put on some awesome PVOGS events!"
FIONA LI
Academic Officer
"Throughout her lifetime, a woman shares numerous joys and challenges with her O&G. The immense privilege of this position is what drives my passion to pursue this fulfilling and challenging career, and contribute to innovation of O&G to optimise care for women worldwide. My current research interests are in menopause and pelvic pain. Furthermore, I am dedicated to the continuation of active improvement of support for and the experience of junior practitioners in the pre-vocational sphere, and hope to be part of a more open discourse of the challenges faced by junior practitioners in medicine."
KELLY MIROWSKA-ALLEN
Academic Officer
"On top of being the perfect balance between medicine and surgery, O&G offers opportunities to make real changes to the health and wellbeing of individuals and communities at a local and global level. I'm excited to be a part of these changes as i embark on my first O&G resident year in 2018. Given my passion for evidence-based medicine, research and education I'm thrilled to take on the role of PVOGS co-academic officer and expand on the incredible work of the outgoing committee."
HELENA OBERMAIR
Academics Officer
My interests have long centered around women's health and women's rights and I believe that a career in obstetrics & gynaecology provides the perfect opportunity to have an impact. I am continually striving to further my experience in this area in research, teaching, advocacy, and as a junior doctor in South West Sydney. I hope to accumulate more experience within this field through my role as Academic Officer for PVOGS Australia & New Zealand.
HANNAH GORDON
Academics Officer
O&G has a propensity to engage at the intersection between medicine and society, which is one of the many reasons why I'm drawn to this specialty. I've recently returned from a six-month research elective in women's mental health at King's College London, and back home I'm part of a team conducting research into adhesions in gynaecological surgery. I am passionate about education, and as a PVOGS academic officer I am excited about sharing my enthusiasm for women's health with other medical students and junior doctors.
HELENA QIAN
Sponsorship Officer
"I'm passionate about improving global health in underserved communities, of which women and children are a particularly vulnerable population. Hence, I'm currently undertaking an elective in Nepal and Cambodia in the surgical and O&G departments and absolutely loving every second! I'm most looking forward to helping make PVOGS events more accessible to students from all regions through more monetary sponsorship and partnerships."
DEVANSHI JANI
Publications Officer
"Coming from a South Asian culture where women themselves poorly understand their health and needs, I've always inherently had an interest in Obstetrics and Gynaecology. I'm passionate about pulling away the stigma around women's health issues by creating more public discussion on O&G issues, especially in South Asian/Asian/Middle Eastern and Indigenous communities. My aim for the year is to increase student, and wider medical community engagement through highlighting global O&G topics on social media so that we can become more aware as future clinicians".
TRAVIS BETTISON
Publications Officer
"For me, O&G combines the best aspects of medicine with all the excitement and challenges of surgery. After doing my elective in O&G in Samoa I knew there wasn't anything else I could do. Also, having just had little boy myself I know that that 9 months was the most amazing experience I've ever had, and to be able to have a career sharing moments like that would be incredible".
BEN MAUDLIN
I wish I could say I had always wanted to do Obstetrics, but that simply isn't true. It wasn't until I did my O&G rotation in my penultimate year of my medical degree that I fell in love. It's the perfect mix between medicine and surgery. It's a privilege to share this experience with women and their partners. I want to provide access to safe and evidence-based obstetric care to women globally and hope to achieve this through clinical practice, teaching and advocacy.
Today, in addition to being on our Treasury team, he is an Intern at RPA in Sydney, was a founder of PVOGS NSW. He currently sits on the NSW Medication Safety Committee, Clinical Excellence Commission VTE Expert Advisory Committee, HETI JMO Forum, and RPA Chief Executive Doctors in Training Committee.
DANIEL GARCIA
Treasurer
Daniel grew up in Canberra and spread his wings once he went to medical school in Geelong and has fallen in love with the city where he hopes to practice one day. In his professional travels as a doctor, he has worked in a multitude of hospitals in both rural and metropolitan Victoria currently working as a Medical Officer at the Royal Woman's Hospital. His passions include health advocacy for those without a voice and caring for the vulnerable people of our society.
CLEMENT TEO
IT Officer
"As a medical student and intern I couldn't decide between medicine or surgery; so the obvious choice was a speciality that combines medicine, surgery, radiology, empathy, decisiveness, the kitchen sink, and everything in between. As a resident, O&G challenges me daily in ways I never thought possible, however, I received little or no direction after medical school to kindle my interest in O&G. I had to rely on word of mouth and lots of Dr. Googling to to figure out simple things such as the best path to get into training or what courses to attend. My hope is that PVOGs will fill this void for many such as myself, and I am really excited to being part of PVOGs in the coming years."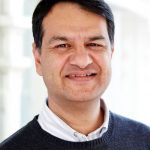 Dr. Vijay Roach
PVOGS Ex-Officio
Dr. Vijay Roach is a specialist Obstetrician and Gynaecologist with years of experience in both public and private practice in Sydney. He is the President of The Royal Australian and New Zealand College of Obstetricians and Gynaecologists (RANZCOG), and has previously held the role of Chair of the RANZCOG NSW Training and Accreditation Committee for nine years. Vijay is directly involved in medical education through lecturing at the University of Sydney.
Vijay is also involved in teaching and mentoring medical students at Royal North Shore Hospital, where his warm and genuine approach allows students to appreciate the human side of medical practice.
FIND OUT MORE