The Pre-Vocational Obstetrics & Gynaecology Society of Australia and New Zealand (PVOGS ANZ) is an organisation that engages with junior doctors and medical students with an interest in the fields of obstetrics, gynaecology and women's health. In particular, addressing the gap between finishing medical school and starting specialist training.
Supported by and affiliated with The Royal Australian and New Zealand College of Obstetricians and Gynaecologists (RANZCOG), PVOGS works to provide its members with opportunities and resources to facilitate their pursuit of a career in women's health, through conferences, workshops, podcasts and educational resources.
PVOGS Executive Committee
CHARLOTTE PUGH
Co-chair
"Women's health has an integral role in improving individual health, community wellbeing and global health outcomes. I have always been drawn to the unique diversity of this area of medicine and the opportunity to care for women throughout the entirety of their lives."
MELISSA DU HEAUME
Co-chair
"It is an honour to work with women at all life stages and I love seeing women empowered to be active participants in their own health care. O&G is also the perfect combination of surgery and medicine (with a bit of emergency) and it fits well with my background in women's health advocacy and previous work with women in India, Peru and Papua New Guinea."
TOM WRIGHT
Treasurer
"O&G grabbed me from my first day on the ward as a medical student! I love the energy, the variety and broad scope of practice – encompassing everything from preventative healthcare all the way through to life-threatening emergencies. I also enjoy how patient-centred the specialty is – you can often provide multiple solutions, each with their own pros and cons, and you have to work with the patient to find out what works best for them!"
ALAINA FRANCIS
Secretary
"I came into medical school thinking I wanted to do Anaesthetics, however after my first two weeks of my Women's Health rotation that all changed. Obstetrics and Gynaecology had me hooked. It is the perfect combination of procedural skills, surgical skills and medicine, and allows you to help empower women, and be an advocate for their healthcare. No two days are ever the same. I feel privileged in the fact that I can be a supportive figure in both one of the most joyous moments of a women's life, and one of the worst."
PRITHI RAJIV
Sponsorships Officer
"Women's health and the study of O&G is very close to my heart, as it so closely intertwines medical and surgical conditions with social justice issues. I am particularly passionate about the sexual and reproductive health of women, especially in disadvantaged social groups such as migrant, refugee and low SES populations."
SHERIHAN GONI
Publications and Promotions Officer
"Over the years, I have been continually inspired by the incredible clinicians and researchers, deeply meaningful doctor-patient interactions and dynamic nature of the work in O+G. The advocacy for education and awareness of women's health issues has also always been a passion of mine. Through O+G, I hope to one day participate in programs to bridge the gap in health literacy on obstetrics and gynaecological issues in underprivileged countries and communities, empowering women with the knowledge and skills to improve their wellbeing."
KATE VAN BERKEL
Publications and Promotions Officer
"I've always been fascinated by pregnancy, and couldn't see any other specialty having the same emotional draw for me as one that lets you share moments as special to people as conception, pregnancy, and the birth of a new human. I am also a feminist and decided a long time ago that reproductive rights and health play a very important role in the empowerment of women and gender diverse people, and I want to be a doctor who is well placed to serve them in the reproductive space."
SCOTT ANDERSON
IT Officer
"O&G provides so many opportunities to subspecialise and engage in both the surgical and physiological space and it's such a privilege to be involved in what is often one of the most special moments in someone's life. My own experience with the birth of my first child was the inspiration that led me into medicine and my passion for this career is still guided by that experience even today."
KATIE BLUNT
Academic Officer
"I am captivated by the health-related joys and challenges faced by women throughout their lives. The immense privilege of working with women in these life-changing situations is what has ignited my interest in O&G as a career. I also value the diversity of the speciality – there is an interesting mix of surgery and medicine and is very much a patient-centred speciality."
SHANNON LOVELL GREENE
Academic Officer
"Women's health offers a unique opportunity to work with healthy women in one of the most precious moments of their life. It is a privilege to witness the birth of a child – it is an incredible moment to be involved in. Women's health encompasses life from birth to death and allows you to walk in each stage of life with your patients. It is also such a profound privilege to augment the health of women, so they are living longer healthier lives unencumbered by stigma or stereotype. I also enjoy the evolving discipline that has begun to address growing transgender health issues as well as educating the greater population around areas such as FGM and the continued violence towards women."
MICHELLE YU
Academic Officer
"As advocates for women's health, we are able to empower all women to optimise their individual health. This is a unique opportunity to have a wide-reaching impact in the broader community striving for gender equity and improve global health. I enjoy the diversity of O&G practice through all different life stages in a broad range of clinical areas and am excited by the ongoing research and developments."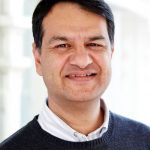 Dr. Vijay Roach
PVOGS Ex-Officio
Dr. Vijay Roach is a specialist Obstetrician and Gynaecologist with years of experience in both public and private practice in Sydney. He is the President of The Royal Australian and New Zealand College of Obstetricians and Gynaecologists (RANZCOG), and has previously held the role of Chair of the RANZCOG NSW Training and Accreditation Committee for nine years. Vijay is directly involved in medical education through lecturing at the University of Sydney.
Vijay is also involved in teaching and mentoring medical students at Royal North Shore Hospital, where his warm and genuine approach allows students to appreciate the human side of medical practice.
FIND OUT MORE